Fishing is a skill which involves catching fish from selected spots around Rune1. Higher Fishing levels enable different mechanisms of Fishing, the ability to catch a larger selection of fish and increases a player's catch rate. Caught fish may be cooked through the Cooking skill to create food which may be used later to regain Hitpoints during combat. Alternatively, many players sell their excess stock of catches for gold.
The Fishing Guild is located in a fenced area north of East Ardougne. To enter, players must have a Fishing level of 68, it is the best location to fish as the fishing spots are a few steps away from a bank.
Fishing Supplies
Locations of fishing shops where players can buy supplies are:
Equipment
Players need the right kind of equipment to catch the fish they want. Fishing equipment can be purchased in fishing shops.
Fishing Spots
Players can catch fish with various fishing tools and bait at the following locations: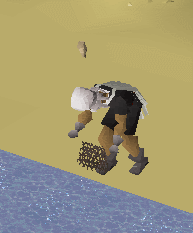 Net and Bait Fishing Spots
Draynor Village - To the southwest of Draynor Village's bank are some fishing spots. Here, players can net and bait fish. It is a great place to start fishing as there is a bank nearby. However, be cautious of the Dark Wizard who will aggro low leveled players
Al Kharid - There are some shrimp fishing spots south of the Al Kharid bank, approximately as far as the fishing spots in Draynor Village are from the bank.
Catherby - Along the southeastern shore.
Lure and Bait Fishing Spots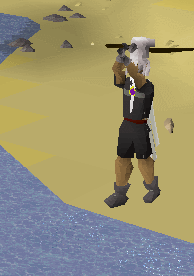 Cage and Harpoon Fishing Spots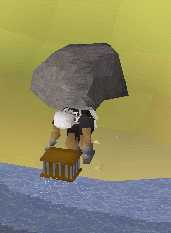 Experience Rates
Community content is available under
CC-BY-SA
unless otherwise noted.