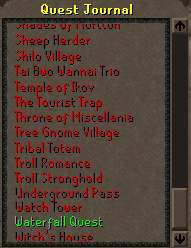 Quests are groups of interrelated tasks, usually involving a story line, that can take anywhere from a few minutes to a few hours or even a few days to complete.
The starting locations for all quest are labelled with a blue compass icon

on the minimap, and completing them can provide rewards ranging from experience and items, to access to new areas, minigames and miniquests.
As of July 1st, 2018, there are a total of 5 quests in Rune1 with. A total of 6 Quest points are rewarded for the completion of all quests currently released.
The Quest journal on the interface has the complete list of quests and are colour coded:
Skill Requirements
Levels required
for every available quest

N/A

N/A

N/A

N/A

N/A

N/A

N/A

N/A

N/A

N/A

N/A

N/A

N/A

31

N/A

N/A

N/A

36

N/A

Total Level: 500
Temporary boosts
may be used in some quests
All Quests
The quests requiring the highest skill levels are:
List of quests
Community content is available under
CC-BY-SA
unless otherwise noted.